As an Amazon Associate I earn from qualifying purchases.
Air fryer chicken legs are one of the many treats made healthier by frying in air, not oil. This recipe proves that you don't need deep fat to get delicious results!
Real Southern Fried Chicken
Fried chicken is one of those recipes that we all like to make our own. Individual cooks have different methods and ingredients, some newly developed, and some that are family traditions handed down through the generations.
Everybody, and I mean everybody has an opinion on how to cook the "best" fried chicken. Back in the 1950's in the rural south, there was only one way to fry chicken. Period.
It was simple. Season with salt and black pepper, and nothing else. Dip in buttermilk and flour, and fry it. If you did anything else, it wasn't southern fried chicken.
About This Recipe
Life was much simpler in those days, and so was food. Nobody thought of (or cared about) using exotic spices or adding things like coconut to the breading. To this day a down home southerner would tell you that isn't southern fried chicken. Delicious, yes, but let's not confuse some citified chicken dish with the original real thing.
That's why the ingredient list in the recipe below is real simple. It's tradition, with the exception of a few minor adjustments that get the best results from air frying. Otherwise, nothing fancy is needed to enhance the deliciousness of tender chicken inside a crispy crust. For an old school southerner, it just doesn't get any better!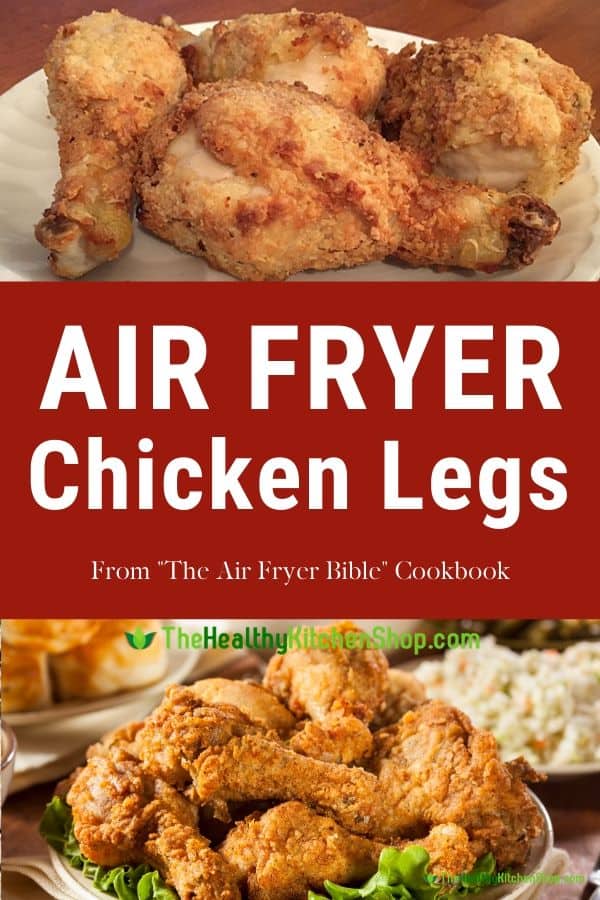 Oh wait, but what about everybody else?!
If you prefer to live on the wild side, it's very easy to take our simple recipe and jazz it up. Instead of (or in addition to) salt and pepper, sprinkle to taste with your own spicy favorites. You might try garlic powder, onion powder, chili powder, poultry seasoning, smoked paprika, or any of your favorite herbs and spices. Cayenne pepper is a good addition for those who like it fiery hot.
Commercial seasoning mixes are also great. Our favorites include Tony's, Zatarain's Creole Seasoning, and some of the "Grill Mates" line from McCormick, especially their Montreal Chicken seasoning. The only drawback with seasoning blends is that many contain an excessive amount of salt. Too much salt is unhealthy and ruins the taste, so use sparingly and always choose reduced salt versions when available.
No matter what seasoning you choose, these air fryer chicken legs are easy to cook and healthier than any deep fried version. The other bonus you get with an air fryer is that when you're finished cooking, you won't have messy grease spatter all over your range and counter top. Who doesn't love less clean up time?!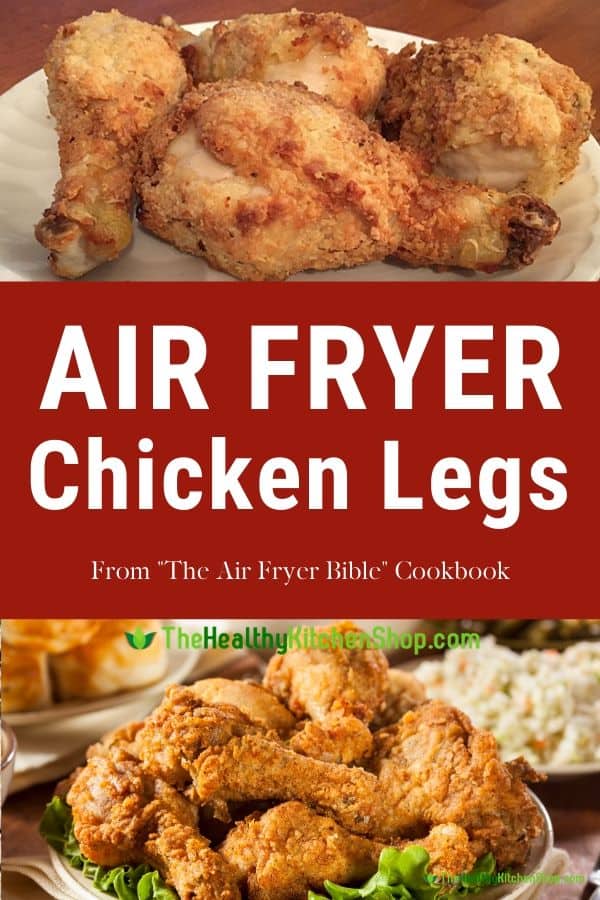 Air Fryer Chicken Legs
Buttermilk in the coating gives these air fried chicken drumsticks that traditional southern flavor. My favorite sides are purple hull peas and sliced fresh tomatoes.
Ingredients
1

egg

1/2

cup

buttermilk

3/4

cup

self-rising flour

3/4

cup

panko breadcrumbs

1

tsp

salt

1/4

tsp

ground black pepper

(to mix into coating)

salt and pepper to taste

(for seasoning chicken)

4

chicken drumsticks, skin on

oil for misting or cooking spray
Instructions
Beat together egg and buttermilk in shallow dish.

In a second shallow dish combine the flour, panko crumbs, 1 teaspoon salt and 1/4 teaspoon pepper.

Sprinkle chicken legs with salt and pepper to taste.

Dip legs in buttermilk mixture, then roll in panko mixture, pressing in crumbs to make coating stick. Mist with oil.

Spray air fryer basket with non-stick cooking spray.

Place all 4 drumsticks in air fryer basket and cook at 360℉ for 10 minutes. Turn Pieces over and cook an additional 10 minutes.

Turn pieces to check for browning. If you have any white spots that have not begun to brown, spritz with oil or cooking spray. Continue cooking for 5 more minutes or until crust is golden brown and juices run clear. Larger (meatier) drumsticks will take longer to cook than somall ones.
Notes
Tip: You can easily double this recipe to serve 4. For larger air fryers you may be able to cook quite a few drumsticks at once. Just leave  enough space for air flow, and do not stack them. For small air fryers, cook in two batches. When your second batch is cooked, pop the first batch back in the air fryer for a minute or two to reheat. You'll find that air fryers do a great job of warming up without making foods dried out or tough.
© 2017 Susan LaBorde and Elizabeth Hickman. All rights reserved. No part of this recipe may be reproduced or transmitted in any form or by any means without prior written permission.
Want more? This recipe is from The Air Fryer Bible Cookbook by Susan LaBorde and Elizabeth Hickman. Click here to see The Air Fryer Bible on Amazon.
10 More Recipes for Air Fryer Chicken Legs
When you buy an air fryer you quickly discover that they do more than frying. For anyone who loves dark meat, fried drumsticks are a favorite, but there are lots more ways to cook air fryer chicken legs. We hunted around for some other ideas, and here's what we found – we haven't tested these recipes, but they look interesting.



You may also like: