As an Amazon Associate I earn from qualifying purchases.
You've seen it on TV, but is it the right choice for you? My detailed Nuwave Air Fryer Review has all the pros and cons you need to know about before you spend your hard earned money.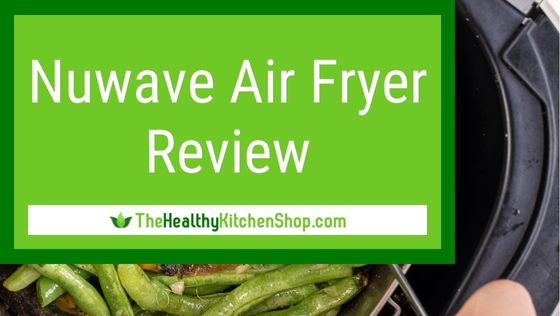 Rating:
4.4
Reviewed by
Susan LaBorde
You may recognize this Nuwave Air Fryer as the as seen on TV model featured in infomercials. (Ever notice how quickly you get hooked and sucked into watching those things?) Also known as Nuwave Brio, this brand comes in a standard size too, but for this review we are focused on the bigger model.
This extra large Nuwave Air Fryer has a 6 quart interior cooking capacity and a digital control panel with adjustable temperature range and multi-hour timer. About 60% of owners think it's great while a significant number of others complain that it quit working prematurely. (Be sure to read About the Warranty below.) Compared to other extra large air fryers, the Nuwave sells for a great price, but you may want to also purchase the extra protection plan that Amazon offers.
Features
6 quart capacity
1,500 watts
Digital Control Panel
Adjustable temperature settings (100 – 400 degrees)
100 hour timer
Dishwasher safe parts (top rack only)
1 Year Limited Warranty
No, that "100 hour timer" is not a typo, but total programmable time depends on the cooking temperature you choose:
High Temp, 350 to 390°F – maximum cooking time is 1 hour
Low to Medium Temp, 100 to 345°F – maximum cooking time is 99 hours and 59 minutes
Personally, I've never cooked anything that took longer than 45 minutes in an air fryer, nor have I seen any recipes calling for more than an hour cooking time. I can't think why that 100 hour option is an advantage. For safety reasons, the idea of programming this Nuwave for multiple hours seems a bit on the absurd side. If I'm missing something, by all means please leave a comment to let me know!
Check out this 2 minute video. The camera perspective may be a little odd, but it still gives you a good look at this model and how it operates.
Did you notice his comparison to the Power Air Fryer XL? In his opinion the construction quality of the Nuwave is better. He describes the Power brand as being flimsy whereas the Nuwave is sturdier.
About the Warranty
The Nuwave also carries a slightly better warranty than the Power Air Fryer. However, if you have a problem with your Nuwave you will still encounter costs. Read details here: https://www.manualslib.com/manual/1153296/Nuwave-Brio.html?page=13#manual. Note that when returning a product under warranty for repair or replacement, customer must prepay shipping both ways.
(Back to Top)
Size and Capacity
Exterior Dimensions: 12.5″ x 11″ x 11″
Weight: 15 pounds
Cooking Capacity: 6 quarts
---
What's Included with the Nuwave Air Fryer?
I haven't covered optional accessories here because this particular model comes with a full set of accessories that includes:
Baking pan
Grill pan
Reversible rack
Baking rack
Bacon rack
Baking liners (muffin cups)
Digital temperature probe
You can see the items pictured below. Click the image to see them on Amazon.
(Back to Top)
Customer Reviews
Over the years this model has accumulated thousands of customer reviews. At last check, over 70% of those owners rank the Nuwave with a 5 star rating. They praise it for producing crispy chicken and tofu, onion rings, French fries, and a variety of other tasty fried vegetables. They like the easy clean up and the fact that it doesn't heat up the entire kitchen.
Many of these owners had originally bought a standard size air fryer and are delighted with the expanded capacity. The basket of this Nuwave will hold a whole chicken, so it appeals to those cooking for families.
Cooking Results & Cleaning
As always there are complaints that clearly come from user inexperience. No matter what brand you decide to buy, you will be much happier and get more use from your appliance if you invest in a high quality air fryer cookbook. (Unfortunately there are lots of terrible air fryer cookbooks on Amazon. For the best choices please see our Air Fryer Cookbook Guide.)
The fact is that a good air fryer does a beautiful job on everything from beef ribeyes to blueberry muffins. Once you learn the cooking method you may be surprised at the versatility of these appliances and at how often you use your air fryer.
More Serious Concerns
As for legitimate complaints, many users report that preheating can take as long as 15 minutes. That is quite long for an air fryer, and eliminates any time you might save air frying a lot of foods. For me this would be a pretty big drawback. However, those who like the Nuwave and have never owned any other brand of air fryer don't seem to mind.
There are also some people who complain about the basket being hard to clean, but I disagree. The bottom of the basket is wire mesh, like on the Philips models, and to me that style cooks better because less of your food is resting against a cooking surface.
For cleaning I use the Oxo brush pictured below. The soft bristles work well on the mesh without getting hung up. For tougher messes like melted cheese on the basket bottom, let it soak for a few minutes before cleaning.
The most serious complaints concern malfunction and early demise. Approximately 10% of buyers reported receiving units that quit working after a short period of time, often within 2 to 3 weeks after purchase. These folks had nothing good to say about Nuwave customer service.
Otherwise consumer feedback is generally positive, with well over 80% of owners rating it with 4 or 5 stars. Still, the percentage of early failures seems high enough to be worth considering.
(Back to Top)
The BEST air fryer cookbook is … The Air Fryer Bible
We know because we wrote it.
We wrote it because we read all the good cookbooks and knew we could do better, a LOT better. So we did.
See it on Amazon: The Air Fryer Bible
Pros
Low price (often sells for less than half the cost of the high end Philips XL model)
Extra large cooking capacity
Produces good results on most foods
As easy to operate and clean as any air fryer
Cons
Takes up to 15 minutes to preheat
Significant number of units failed within a few weeks or months
Not the best warranty (but better than that of the Power Air Fryer XL)
Reports on customer service are all negative
Nuwave Air Fryer Review: Summary
The 6 quart Nuwave Brio Air Fryer gives you extra large cooking capacity at a very reasonable price, and well over half of owners are so pleased that they give it highest ratings. They praise it for performing well and for being easy to use and to clean. The drawbacks are the number of reported early fails, poor customer service, and the costs you may incur if you have to file a warranty claim.
Bottom line is that if you get a good one, you might be perfectly happy with it for years. If not, you may be in for some frustration and additional cost. You could spend a few dollars more to add a protection plan, but keep in mind there are also lots of comparable air fryers you could consider.
(Back to Top)
May we suggest…

For high capacity and good quality at a low price, you might want to consider Cosori. I bought one 2 years ago and have been extremely pleased with it. For details see my Cosori Air Fryer Review.

View more options for XL air fryers: Largest Air Fryer Models Comparison Chart

More about standard size air fryers (includes a quick comparison chart): Air Fryer Reviews for Smart Shoppers – 2017 Best Air Fryers Buyer Guide

Detailed comparison chart for standard size air fryers: Air Fryer Comparison Chart

The other 'as seen on TV model': See the Power Air Fryer XL on Amazon