As an Amazon Associate I earn from qualifying purchases.
These two Philips AirFryer models that are probably the oldest Philips models, but from the beginning they have been highly rated bestsellers. While they are extremely similar, one has a few key differences. Oddly enough, the less sophisticated model costs about twice as much as the other one. Read on to determine whether one of these air fryers is right for you.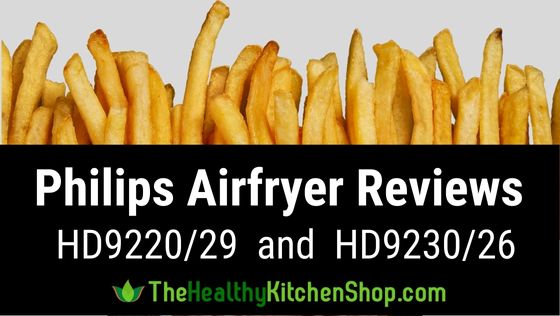 UPDATE October, 2022: The two models featured in this review are still available, but there are lots of newer models to choose from. You may want to check out my Air Fryer Comparison Chart for standard size models, or for large capacity see the comparison chart for Largest Air Fryer Models.
Rating: 4.5 Reviewed by Susan
Note: Because these units are almost identical, this review is actually two Philips AirFryer reviews in one. Below you'll find complete details of both of the following two air fryer models:
UPDATE 8/3/16: Although this review was originally published in 2014, all the information here is still up-to-date and accurate. Over time the average rating has gone up from 4.3 to 4.4, and these are still the bestsellers.
Table of Contents
Features
Both models include all of these features.
1.8 lb Capacity
1,425 Watts
Adjustable Temperature Control
Timer
Automatic Shut-off
Dishwasher Safe Parts
Internal Cord Storage
Cool Touch Handgrips
These electric air fryers let you cook healthier meals by frying foods in little or no oil, a tablespoon or less. In addition to French fries, you can cook most any pre-breaded frozen foods as well as those you make from scratch: chicken pieces, strips & nuggets, fish and seafood, pork chops, onion rings, and egg rolls to name a few. For more versatility you can purchase the optional accessories for grilling, baking and roasting.
As you can see from the above list, both models have an adjustable temperature control. For comparison, note that the T-fal has only one temperature setting, which can be too low or too high depending on the food. That means your chicken wings might take forever to cook, or they might end up nicely crisp outside while the inside is still underdone. The advantage with these Philips models that you have the ability to select the correct temperature for the best results.
Both models also have a timer that sounds an alert when finished. More important is that unlike some other brands, each of these units will automatically shut itself off once cooking is completed. You don't have to babysit the fryer if you have your hands full with something else or just want to leave the kitchen.
Clean up is easy, and all the parts are dishwasher safe according to the manufacturer. (If you really want a lot of detail see "How to Clean Your Philips Airfryer".) A few – very few – customers complained about food sticking to the rack and being difficult to clean, but that is easily remedied with a little cooking spray. The exterior is also easy to wipe clean because its sleek design has a minimum of tiny crevices where grime might build up.
If you're brand new to air frying be aware that these appliances will also grill, roast, and bake. Customers have mixed opinions on grilling burgers, some very pleased with the results and others happy about the taste but say it's too messy. One reported great success with BBQ baby back ribs, and all agree that air frying works great for baking sweet potato slices, asparagus, and all sorts of other vegetables, even kale chips.
To get an idea of what's possible see:
How Do These Two Philips AirFryer Models Differ?
The Philips HD9220/29 AirFryer has manual controls. The Philips HD9230/26 Digital AirFryer has digital touch screen controls, and that is one of the major differences in these two Philips models. Neither works better or has any advantages over the other. Which one you will like best is simply a matter of personal preference.
Size & Capacity
Both models weigh 15.4 pounds, and exterior dimensions are the same:
Philips 9220: 11.3″ x 12.4″ x 15.1″
Philips 9230: 11.3″ x 12.4″ x 15.1″
This makes for a fairly large footprint, so consider your available counter space and keep in mind that your air fryer will need a little room to "breathe" because it does produce heat.
The interior capacity of both is also exactly the same, 1.8 pounds. That may be a little bit deceiving because for even cooking in these fryers, some foods cannot be stacked. You have to leave enough space around foods for air to circulate well. French fries and onion rings can be stacked with no problems. Stacking doesn't work well with something like pork chops or hamburger patties.
The lower priced 9230 model does include a double layer grill rack, which in effect should give you much more cooking capacity with certain foods. The problem I find with that rack is that it's hard to use. It makes your air fryer a little crowded, and you can't see whether foods on bottom are browning. To turn foods during cooking you must remove the rack from the basket. That is not easy to do when it is blazing hot and stacked with food. If I'm cooking a lot, I prefer doing two batches rather than using that rack.
Regardles, even with the double rack neither of these models is for crowd sized cooking. They're perfect for singles and couples, but if you're cooking for a large family you'll probably need to plan on more than one batch.
If extra large capacity is a priority for you, see our review of the Philips Airfryer XL, model 9240 in the Avance collection, or check out Largest Air Fryer Models for a look at all the XL and XXL air fryers.
What helps a lot is that most foods do cook faster. Just don't expect the kind of speed you get from a microwave oven. (Think more along the lines of convection cooking speed.) For example, the general rule for cooking packaged frozen foods is to reduce the temperature by 70 degrees and reduce the cooking time by 30% of that stated on the package instructions. Some foods will cook as much as 50% faster, so when you're cooking from scratch, it may take some experimenting to find the perfect settings for your favorite recipes.
What's Included
The HD9220/29 does not come with any extras.
The HD9230/26 Digital AirFryer includes the double layer grill rack.
Optional Accessories
Though I'm not impressed with the double layer rack, I do own other accessories that I use all the time. My absolute favorite is the baking pan. You will be amazed at how well all types of baked goods turn out in an air fryer, from cakes and muffins to cornbread and even yeast breads.
I also use silicone muffin cups and metal skewers. To see what's available please see Universal Air Fryer Accessories – All Sizes, Best Value.
(Back to Top)
Customer Reviews
One thing everyone seems to hate is the instruction "booklet". It's one huge multi-folded sheet that isn't very sturdy. It's also in several languages, all of which refer to the same photos, so you end up doing a lot of folding and turning. For reference, you can find a simple, English version of the owner's manual online at https://philips.encompass.com/shop/model_research_docs/?file=/PHC/om/HD9220_26.pdf. That manual is for the 9220. Philips does not have a separate manual on their site for the 9230 model – except for this odd little pictures only leaflet which shows a few basics but doesn't include any detailed information.
Of course, maybe printed instructions are just old school. The good news is that there is also an app you can download, which provides guides and cooking ideas. It's available for IOs or Android.
Another common remark is about capacity. Know before you buy that this is not a crowd sized cooker. (If you missed the details about that, see Size & Capacity above.)
Otherwise, the majority of customers rate both of these two Philips models with either 4 or 5 stars. The health conscious are delighted to have an alternative to deep frying, and they also appreciate the easy cleanup and not having to deal with leftover oil. These models cook evenly and effectively, and most often in less time than conventional cooking. It's hard to give an opinion on taste because that's such an individual matter, but these satisfied owners give it high ratings for that too. Even some skeptics and hard core fans of deep-fried food have been pleasantly surprised at the tasty results.
If you're a stats lover, here's a more precise breakdown:
Philips HD9220 – Average rating 4.5 based on total of 884 reviews
Philips HD9230 – Average rating 4.6 based on total of 494 reviews
(Back to Top)
Pros
cooks evenly and quickly, does exactly what it claims
excellent alternative to deep fried foods
works much better than oven for producing crispy outer crust
doesn't make house smell of old grease
simple to understand and operate
automatic shut-off
easy to clean
Cons
quite large on the countertop
small cooking capacity
poorly made instruction sheet (worst in world history according to some)
Philips AirFyer Reviews: Summary
To recap, the digital control model costs considerably less, and in addition to the touch screen control panel it also includes a double layer rack. (You may discover you like that more than I do!). Both the Philips HD9220/29 AirFryer and the Philips HD9230/26 Digital AirFryer rate very high with consumers because they're simple to use, easy to clean, and produce excellent results. Cooking is even and consistent, but most importantly, either of these air fryers offers a healthy and delicious alternative to deep fried foods.
Still Not Sure Which Air Fryer To Buy?

On this site you'll find detailed reviews of a variety of models from all the top selling manufacturers. The best place to start is with one of our comparison charts, where you can quickly see models side by side to compare details, specifications, and prices.